From Paul Wall to Lil Wayne, and from Nelly to Madonna, grillz is now one of the most popular ways to add a bold (but temporary) fashion statement to your mouth.
Although occasionally maligned by the dental establishment, teeth grillz are here to stay. At The Spencer Road Dental Surgery, we are embracing the opportunity to play with our artsy sides – we're just ensuring it's done right!
What are grillz?
Sometimes known as "fronts" or "grills," these are removable teeth covers worn for decoration's sake. Unlike traditional solid gold teeth or gold-plated teeth caps, they do not require removing the tooth, chipping it, or creating permanent damage. Instead, grillz are meant to fit around and on top of your teeth.
Grillz jumped to fame just a few years ago, thanks to the influence of hip-hop artists. Pretty much every famous rapper will sport diamond dust grillz at some point, but the trend is now also embraced by athletes, influencers, and actors.
This popularity means that there are now many options for custom gold Grillz, ranging from cheap grillz made from heavy alloys to 18K gold grillz, although they don't all offer the same materials, quality, or safety standards.
At The Spencer Road Dental Surgery, our goal is to ensure your grillz can be as safe as regular jewels – even if that means adding a couple of steps to the process.
What is the process to get custom grillz?
When well-fitted, you should have no problem getting your grillz on and off at home without any help. However, there's a lot of work to be done before getting to that point! Custom grillz should be made from a 3D image of your teeth and surrounding gums.
Examining your teeth
During the initial consultation, Dr Arshad Mahmood will look at your teeth to make sure they are in good starting condition. Then, we will make sure we give your oral contour a fresh start through deep cleaning. This will help us make the best possible digital impression.
Getting a 3D Model of your mouth
Traditionally, grillz was made using a physical impression of your teeth. This involved covering your teeth with a soft putty, which you would then have to bite until it hardened. No moving, talking, or gagging in the meantime!
Fortunately, technology has allowed us to simplify this step. At The Spencer Road Dental Surgery, we use a digital scanner and can create a digital image with the exact size and shape of your entire mouth in less than two minutes.
Sending your virtual impression to the jewellers
Then, we'll send your dental "blueprint" to our trusted laboratory! Their professional artisans will adapt your chosen model according to your dental impressions. Then, they will ship them back to us.
Trying on your grills for the first time
As soon as we receive your customised grills, we will contact you for a trial fitting. Here, we will show you how to put them on safely and answer any questions you may have.
Why trust Spencer Road Dental Surgery for custom grillz?
Personalised care: At The Spencer Road Dental Surgery, we know that every patient is different. Our professional dentist will take the time to examine your teeth and recommend the best grillz model for your teeth and sense of style.
Attention to detail: At every step of the process, you will receive the least toxic materials available and the most advanced technology.
To schedule a free consultation, contact us or call us at 0247 667 881. We are conveniently located to patients throughout the West Midlands.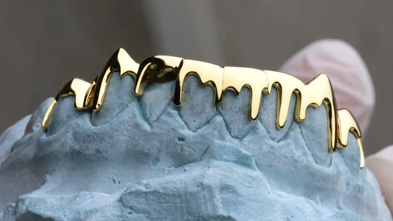 Back to Cosmetic Dentistry